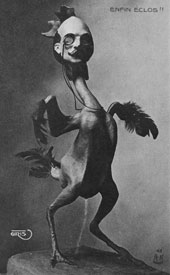 Photomontage work is full of such possibility. The layering of photos to create various Throughout time, a progression of style has brought forth a vast variety of creative work.
nu-real : a timeline of fantastic photomontage and its possible influences, 1857 - 2007

This site has a really great pictorial timeline depicting the history of
photomontage
. Included are images that portray various movements and geographical differences over time. I really liked this site because of its stylish design. I like sideways scrolling, it is a change from the norm. A lot of time was spent culling this vast array of works. I appreciate all that effort!! Max Ernst Collages, bauhaus, belgian collage, Magritte, Joseph Cornell and several great collage artists are shown along with the part they played in the history of photomontage.
This site
is worth your time for a peek!