Every now and then an event will come up that is totally and completely irresistible....and the
Goldmine Shithouse
residency at McCaig Welles and Rosenthal in San Fran is exactly one of these events. How fantastic must it be to create collaboratively with wild and crazy abandon in a gallery setting with these guys! The very prolific and dynamic
Mr. David Hochbaum
, the eloquent
Mr. Travis Lindquist
and the linocut master himself,
Mr. Colin Burns
comprise the lively collaborative adventure called Goldmine Shithouse. These active guys have beat all the odds and kept their loosely formed group together for a few years now, spreading creative wonder in cities throughout the US and even Europe.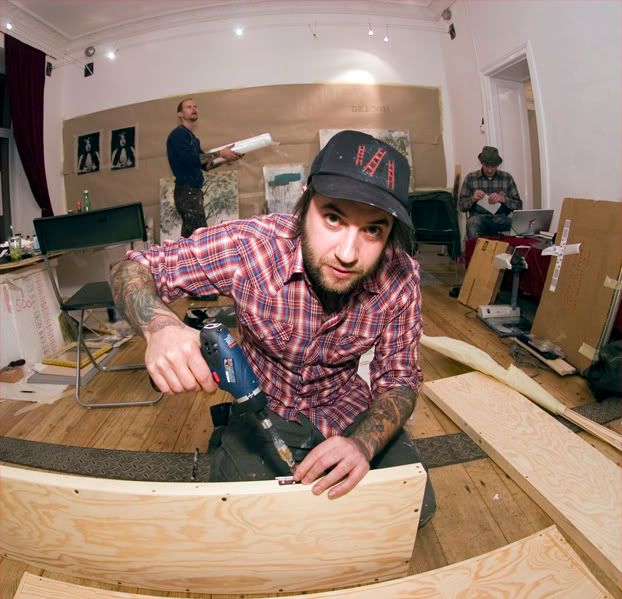 The GMSH is currently serving time at
McCaig Welles Rosenthal
in a show called Russian Reduction. The title honors a Russian friend of the group that predicted a short life span for the collaborative. I thought, however, that the title was an extremely appropriate one, given the US and it's current political attitude towards Russia....Surely it is a timely title. The group will live, work (and play) at the gallery for 2 weeks up until the opening of this much anticipated show.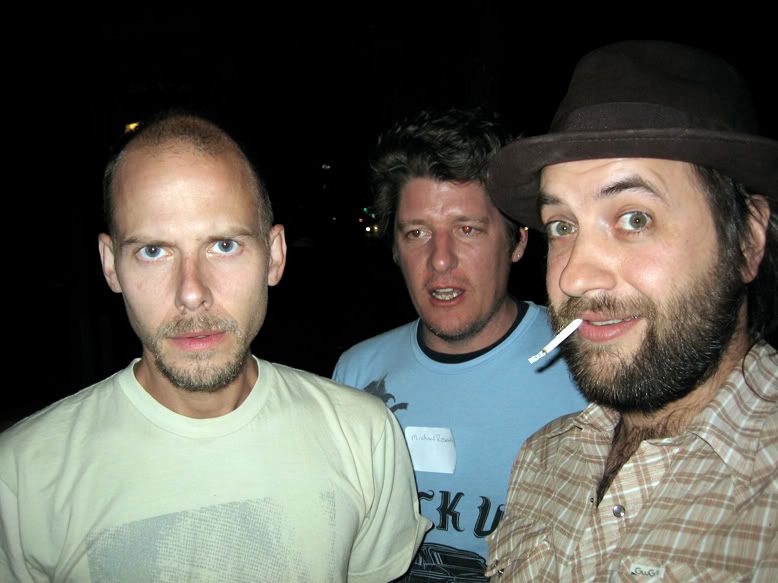 And really, why does Collage Clearinghouse gush all mushy all over the GMSH's work??? Because I can't get enough of the spontaneity that these guys provide. Because their work is so fresh and full of texture. Because they put on silk screen parties!!! Because they work so utterly collaboratively!!! I know how cool it feels when the creativity is flowing and things are going well when you are in the studio alone. Can you just imagine the buzz you get when 3 people (and more) are all flowing creatively everywhere together all at once??? It must be like a fine bottle of Patron....tastes good, feels good, with a wondrous afterglow.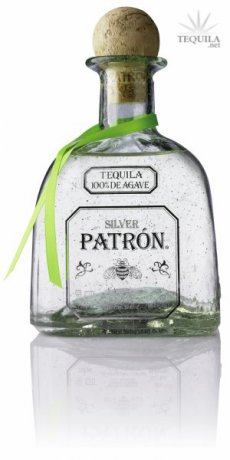 They have posted some videos on the
GMSH myspace
, one of which I just had to post here on CC. This little vid shows the boys working on a canvas together. Ya gotta love this art love!!!
And if you are lucky enough to go, here's the schedule down-lo:
• On THIS Saturday September 6, 2008 the much-anticipated bring-your-own-shit- to-be-silk-screened party will take place from 7 to 10 pm. Come and enjoy and make sure to bring some garments to get inky.
• Then, on September 13th the culmination of hard work will be exhibited at the opening exhibition and reception, 7PM to 10PM
IF you are a west coaster, or just in the San Fran hood for a visit, this is something to see!!!
McCaig Welles and Rosenthal
365 Valencia Street, San Francisco, bet. 14th and 15th
gallery@mcwellesrosenthal.com