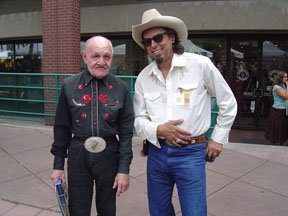 Vato and Jimm, Denver
I have been looking around the web this morning at some collagists work that I have not reviewed in awhile. Currently, I am enthralled with the fantastic
Tony Fitzpatrick's blog
. He has such a lively color palette! His work is so graphic. I love it. The stories he spins on his blog has got me thinking and exploring. I took a look at his link list and found some new artists that I have not heard of. Such as Jimmy Descant. What fab stuff!!!
This work of Jimmy Descant >>...who now lives and creates in Colorado but hes "ALWAYS a New Orleanian.">>is just outstanding. He uses such a crazy myriad of objects and I am so inspired by that. It's collage on steroids!!!
Such Superb work. Extremely detailed and eccentric. Rural. Raw. Beautiful. Inspiring.
Jah, Hepmysef, Hepmemuch (Sioux)
The idea of an Indian headress made of irons just kicks me. I love this piece. I love it. Very Much. It's a good inspiration for my Mohawk Valley project which has some (mohawk) indian attitude to it.
I just adore his masculine handling of metals. So industrial.
I was loving his artwork and then I read his bio. Now I LOVE his work.
His philosophy speaks to me:
"
My work contains nor depicts any form of guns, bullets, or bombs. They are for the peaceful exploration of time, space, ideas, and cultures."
What a terrific mantra. Imagine the beautiful world that would result should we all follow it.
Deluxe Rocketship: the color usage in this piece is just plain enviable. And it lights up!!! swoon.